RB028
Graeco-Roman bronze figure of baby Herakles strangling the snakes.
2nd century BC- 1st century AD
H. 5.35 cm (2 1/16in.), D. 6.23 (2 7/16 in.)
Perfect condition. Fine reddish brown and green patina.

$14,500.


---
Herakles as a baby is seated with his left leg bended before him and his right leg bended to the right. With his two raised clenched hands he is grasping the two coiling snakes, sent, according to the myth, to kill him by Hera. The snakes' bodies coil around his bare legs. His head is turned to the left. The figure is attached to a round bronze vessel cover with a convex center, decorated with concentric grooves.
The group figurine is very expressive and dramatic, showing the baby controlling the two large snakes which attacked him, in realistic tension and lively style. Herakles has chubby face and features of the body, and he seats in a posture of a baby. The snakes are twisted around in a realistic way, and modeled with fine details, including the texture of the snake skin.
Cf. Kleiner, 1992, fig. 285.
Bronze figurine depicting baby Herakles with the serpents, 1st-3rd century AD, British Museum.

Bronze figurine, 1st century AD, Museum of Art and Archeology, University of Missouri.


---

Kleiner, D. E. E., Roman Sculpture, Yale University Press, 1992
Back to top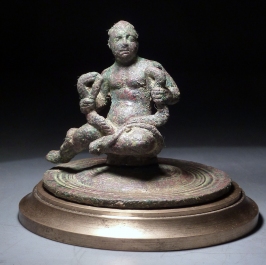 Click on any image to enlarge it.