RG130
Roman golden yellow glass Janiform head flask
2nd-3rd century AD.
H. 9.6 cm.
Intact
Ex. W.B. Collection, 1960???s-70???s.
New
Sold


---
The flask body blown into a bipartite mold in the form of a Janiform head with two faces of a putto, with chubby features, framed with curly hair. Tall cylindrical neck with irregular flaring folded rim.
Cf. Stern, E. M. Roman Mold-blown Glass. The First Through Sixth Centuries, The Toledo Museum of Art, Toledo, Ohio, 1995. fig.95, p.212
Back to top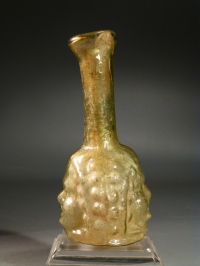 Click on any image to enlarge it.